Gas pipes are integral to various settings, from residential and commercial to industrial and medical. They're pivotal for distributing natural gas everywhere, including supplying medical oxygen in hospitals and powering equipment in laundromats and food courts. LESSO, our industrial group, provides an extensive range of gas pipes and fittings suitable for any project. Gas piping is vital to today's infrastructure. 
To provide gas to homes and businesses, it's extracted from wells, processed, and then distributed. Given its significance, gas piping is subject to strict federal regulations. If you're curious about the materials used in gas pipes and their importance, this guide is for you
What Is Gas Piping? Uncovering the Basics
A gas piping system involves transporting natural gas from the source to your business or home. This type of system is made up of many pipes that can run along buildings or underground. The main gas pipe material is metal. This material must be durable enough to carry pressurized gas to your home from the utility company.
To have a gas piping system installed, you'll need to hire a professional who can determine the amount of piping that's needed and what the installation process will entail. They'll identify the amount of gas you need and which piping material is best for your home.
After the pipes are installed, the gas will be turned on by your local utility provider. Once the gas is turned on at the street, it will be routed directly to your home. At this point, you can start using this gas for cooking food and heating your home.
Gas Piping Materials: A Comprehensive Review
Most gas pipes are made from metallic materials. As mentioned previously, any material that's used in this process needs to be durable enough to withstand the pressure that builds up when gas passes through.
Metal piping is the most common option in gas pipes. Along with being durable and strong, it's able to withstand a considerable amount of pressure. One downside to using metal piping is that it's expensive. It can also be challenging to install. The main types of metal that are used for gas pipes include black iron, copper, and steel.
You might also be interested in PVC piping. PVC stands for polyvinyl chloride and is a relatively affordable material that's regularly used in construction and other industrial applications. Before the substance is made into piping, it's brittle and rigid. However, it becomes malleable and stronger when combined with plasticizers and similar additives.
The best aspect of using PVC piping to deliver gas is that it doesn't cost much to buy or install. However, there's a reason that it doesn't cost as much. PVC pipe is weaker than metal piping and is unable to handle the same amount of pressure.
An additional option that can be used in the making of gas pipes is fiberglass. This is a durable and strong material that's capable of handling high pressures. In fact, it can handle nearly as much pressure as steel pipes. The main downside to using this type of pipe is that it's costly and can be difficult to install.
Types of Gas Pipes for Natural Gas
Along with the different materials that gas pipes can be made from, there are also numerous types of gas pipes. Among the more common types is a polyethylene gas pipe, which is made from hard plastic and comes with a smooth interior. By providing a smoother surface, corrosion and friction are kept at bay.
Polyethylene gas pipes are flexible and lightweight, which is why the installation process is simple. These pipes are known to be resistant to stress or impact damage. On the other hand, these pipes have a lower pressure rating in comparison to metal pipes, which is why they aren't perfect for every application.
Also, consider aluminum-plastic composite pipe (APCP), which is a relatively modern pipe that is made from plastic and aluminum. These materials are combined to make the finished product strong yet flexible. If piping is needed for an area where a considerable amount of movement occurs, this type of piping is ideal.
While there are many reasons to use APCP, there are also a couple of drawbacks. For example, this piping is less durable than metal pipes while also being more expensive. It's also possible for the piping to corrode over time, which makes leaks more prevalent.
If you choose corrugated stainless-steel tubing, this type of pipe is flexible and easy to install. You can also use it to connect two separate pieces of pipeline. The main advantage of corrugated tubing is that its flexibility allows it to be formed around tight corners. However, it's a costly material that can be damaged.
You could also select hot-dip galvanized steel pipes, which offer superior durability and corrosion resistance. These pipes contain zinc coating that protects against rust and other issues. However, they are weighty and expensive. If you opt for black iron, this is among the most regularly used piping materials because of its strength and durability. However, it has limited flexibility and a high weight.
How Does a Gas Line System Work?
As touched upon previously, a gas piping system is a series of pipelines that send natural gas to consumers. Since the gas is placed under high pressure, it needs to be stored at an extremely cold temperature. In fact, it's usually well below -50 degrees Fahrenheit. There are two primary types of pipelines included in this system, which extend to distribution pipelines and transmission pipelines.
Transmission pipelines are made to carry gas to local distribution networks, which means that they come from production fields. As for the distribution pipelines, they are significantly smaller and deliver gas to different end locations. Some of the additional components in a gas piping system include:
Pipeline – This is a type of tube made from plastic or metal that can transport gases or liquids. It can be placed above ground or underground.
Valves – The valves in a piping system control gas flow. There are several types of valves in this system, which include globe valves, check valves, and gate valves.
Pipe fittings – A pipe fitting can be used to connect multiple pieces of pipe. The various types of fittings include tees, reducers, or elbows.
Meters – A meter measures how much gas is sent to the customer. Thermal meters and volumetric meters are used in this system.
Regulators – This type of component controls the gas pressure. Gas piping systems come with primary and secondary regulators.
Tips for Gas Line Installation: Expert Guidelines
The installation process for gas pipes is somewhat challenging depending on the location, type of piping material, and size of piping. Some of the installation techniques and practices that should be employed include:
Seal all joints with Teflon tape or pipe dope to avoid gas leaks.
Don't run gas lines through ceilings or walls unless absolutely necessary.
Make sure a licensed and insured contractor installs the gas line.
Run the piping through comprehensive testing to check for leaks before installation.
Plan the gas pipe route before starting the installation process. Unless you're using a flexible material, avoid sharp bends.
Have a fire extinguisher on hand.
Make sure the whole system is inspected after installation by a gas technician.
Some of the more common pitfalls that occur with gas pipes include:
This piping can rust and corrode over time, which will eventually lead to leaks. These issues can be avoided with regular inspections.
It's possible for gas to escape if joints aren't sealed correctly.
Gas can also leak if a hole is present in the piping. This issue can be fixed by sealing the hole.
If the system is outfitted with faulty or old valves, gas may leak. Update any old valves with new ones.
Pipes may burst when the gas pressure gets too high.
The gas in your pipes might not flow properly if clogs are present.
Safety Measures and Compliance in Gas Piping
Safety standards for gas pipes are maintained with the National Fuel Gas Code. Under NFPA 54 guidelines, the National Fire Protection Association provides safety requirements pertaining to the installation and design of gas pipes in residential homes and other buildings.
You should now have a comprehensive understanding of gas pipes and their relevance all over the world. Whether gas is being delivered to homes, commercial buildings, or hospitals, it must travel through pipes that are capable of withstanding high pressures. From PVC to black iron, there are numerous materials to choose from. 
The landscape of gas piping is rapidly evolving. The introduction of new materials, technologies, and installation techniques is making gas pipes safer than ever. Get in touch with LESSO today to learn more about our PVC fittings and how you can benefit from them.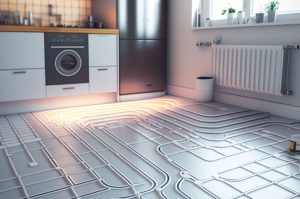 Pipe
Table of Contents Introduction to Underfloor Heating and Piping Layout Planning is crucial. In fact, it's the most important thing of all when it comes
Read More »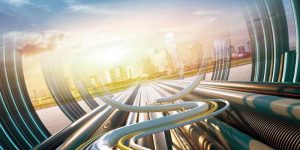 Pipe
Table of Contents There are various solutions in place that ensure gas travels every place where it is needed. This article introduces 4 solutions to
Read More »