Window is a channel that connects us with the outdoors and allows us to observe the outside world without interruption. It brings natural light, fresh breezes and a great view.  Imagine being woken up by the warm rays of sunshine that come through the bedroom window. What a pleasant experience!
As a result, people pay great attention to the installation of windows, and they all want a perfect bedroom window that is functional, attractive, and suitable for the room. How to choose the best window for your bedroom? You will find the answer in this article.
What Functions Should Bedroom Windows Have?
A comfortable bedroom must have proper windows. And a qualified bedroom window should have the following functions:
As an emergency exit: In the event of an emergency, windows can play a role in providing extra security when something terrible happens.
Aesthetic decoration: When decorating a house, windows are always the first element we consider. No furniture can create the same decorating effect as a window that opens slightly letting moonlight into the room.
Wind-proof function: As the main ventilation in the bedroom, windows can also block the wild wind outside. The more sturdy your bedroom windows are, the more peaceful night you will have on stormy days.
Heat insulation: Windows with high airtightness can isolate the heat source from the outside, which is especially important in the bedroom. Setting a proper window can keep your bedroom away from the influence of the weather so that you can spend a warmer winter.
Sound insulation: High-quality bedroom windows can effectively hinder the sounds from loud neighbours, noisy roads, and nearby entertainment activities, ensuring you have a steady rest environment.
What Types of Bedroom Windows?
Sliding window is universal in bedrooms for its easier application and installation. Meanwhile, it is more economical and easier to clean. With two glasses placed next to each other, it is easy to slide horizontally to open it. The sliding window may make a slight sound when you open it, but in general, it suits most bedrooms. LESSO provides high-quality sliding windows with three-chambers structure and double insulation glass that can improve heating insulation.
As one of the most typical windows, the casement window offers more energy efficiency for your bedroom than other window styles. It takes airtight between seal window sash and frame, resulting in a good windproof effect.
When you want to change the air in your bedroom, just open the casement window and the fresh air will quickly fill the whole room. If you are interested in casement window , LESSO offers diverse casement windows, which can be fabricated into 90° and 135° corner windows, even arc windows according to your need.
Tilt & turn window is usually hinged at the top or bottom. It can block rain outside and keep raindrops out when it is open. The maximum oping angles it can reach, however, are 30-45 degrees. And if you want an open view and bend over to say hello to the people under the window, tilt & turn window is not suitable for you. LESSO tilt & turn window can match all European style hardware and can be open inside or hung on top as you like.
Hung window can be opened vertically with two stacked sashes, which can be slid up and down. This type of window is popular for its security. Half-opened mode is safe for the lower floors, you can open the hung window to let in fresh air when you are absent from home. It also provides good privacy protection, which is especially suitable for your bedroom. You can buy a professional hung window from LESSO, a leading provider of hung windows.
What Material of Windows for the Bedroom?
To choose right windows for the bedroom, you must take the materials of your windows into consideration. Here we share some window materials, you can choose according to your needs.
Wooden window: Wood has been used as a window material for a long time. You can have a natural style home by using wooden windows. However, wooden windows can withstand rain and extreme weather with high temperatures. If not well maintained, it is easy to crack or swell.
Aluminium alloy window: Aluminium-alloy window can be seen a lot in our lives. A large group of people will install it in their bedroom because of its light weight and long life. Although aluminium-alloy windows are more durable than wooden ones, they also need regular maintenance in the event of rust and broken windows, just like wooden ones. Poor insulation should also be taken into account when buying bedroom windows.
UPVC window: UPVC window is the latest trend in the market. Modern people usually choose UPVC windows for better insulation and durability. UPVC is stronger than aluminium alloy and requires the least maintenance of all materials. Besides, UPVC windows, with low conductivity, are excellent at locking in the heat, which means you can save more money over the coming months when days get colder outside.
A high-quality bedroom window can bring us more comfortable life. If you want to build a perfect bedroom, sturdy windows with a long life are suitable for your room.
In this article, we discussed the functions, types and materials of bedroom windows. We hope that you can learn about bedroom windows and choose the right type of window according to the above description. With the aim of opening the door to a better life, LESSO is committed to providing the best windows and doors by developing advanced materials and innovating in designs. You can choose LESSO with confidence.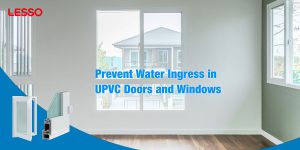 Knowledge
Table of Contents UPVC windows and doors are popular in the US and European countries. All the credit goes to the appealing look and enhanced
Read More »
Knowledge
Table of Contents Choosing a window for your bathroom can be very difficult since you need to combine several considerations that at the first glance
Read More »